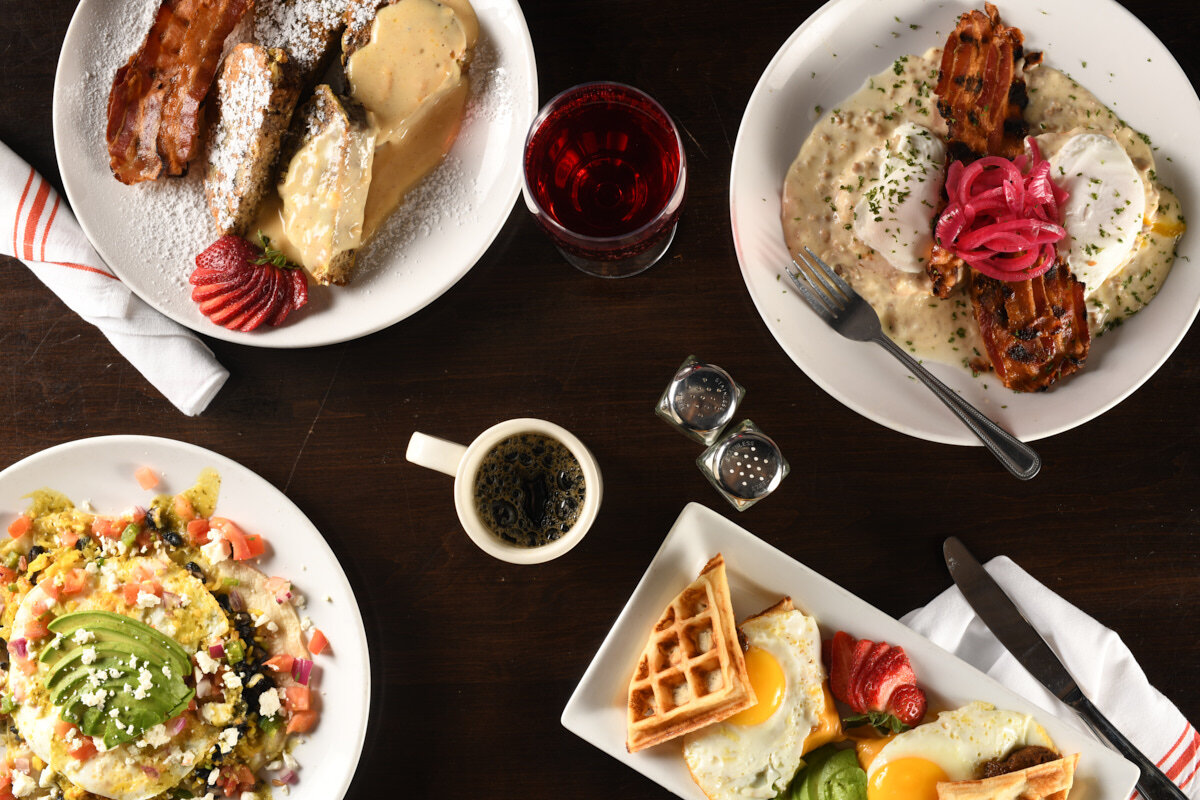 One of the Best NYC Bottomless Brunches Near Times Square
Every Saturday & Sunday 'til 4PM
Book your brunch reservation below and receive one free mimosa or bloody mary!
$

14
NYBC Breakfast*
Two eggs with toast, brunch potatoes & choice of bacon, sausage or ham
$

17
Waffle Sandwich
Two waffles loaded sandwich-style with fried eggs, bacon jam, American cheese & sliced avocado with brunch potatoe
$

16
Big Breakfast Burrito
Scrambled eggs, cheddar, sausage & black beans served with pico de gallo, guacamole in a flour tortilla
$

18
Cheesy Biscuit Benedict
Cheddar cheese biscuit topped with thick-cut bacon, poached eggs and sausage gravy with potato hash
$

16
Brunchy Flatbread
All the classic brunch food groups in one dish - scrambled eggs with bacon, sausage & tomato with arugula salad
$

17
Hummus Toast
Sourdough topped with hummus, poached eggs, arugula, tomato, toasted pine nuts, feta & olive oil drizzle
$

16
Huevos Rancheros
Two fried eggs over lightly charred flour tortillas with avocado, pico de gallo, rice & beans with brunch potatoes
$

19
Cajun Shrimp & Grits
Shrimp and sausage with Cajun spices served over creamy grits
$

16
Avocado Toast*
Two slices of multi-grain toast topped with avocado mash, two fried eggs and pickled sweet onion
$

16
Westside Omelette
Three-egg omelette with sausage, onions, peppers, tomatoes & pepperjack cheese with brunch potatoes
$

16
Cinnamon Toast Brunch
Banana bread French toast topped with with cinnamon crème brûlée and served with crispy applewood bacon
$

16
Mom's Benedict
Two poached eggs over ham & spinach topped with hollandaise sauce on an English muffin with brunch potatoes
$

17
Chicken & Waffles
Crispy chicken layered with waffles and a sweet chipotle chili sauce
$

14
Farmhouse Skillet*
Two eggs any style over bacon, onion, potatoes, tomato, spinach & cheddar
$

15
Breakfast Hero*
Scrambled eggs, bacon, pepper-jack cheese & spinach on a pretzel hero with brunch potatoes
$

22
Steak & Eggs*
Grilled strip steak with garlic herb butter & two eggs with brunch potatoes
2-hour limit 'til 4PM with purchase of a burger, sandwich or brunch entree
$

18
The Classic
Unlimited classic mimosas, bloody marys or Bud Light pints
$

21
Major Marg
Unlimited flavored margaritas with fresh agave nectar
$

24
Beer! Beer!
Unlimited pints from our draft list, excludes pours less than 16oz.
$

17
Avocado Bowl
Avocado, chick peas, roasted cherry tomatoes, charred corn, beets, radishes black beans & fresh-squeezed lime
$

16
Power Bowl
Saffron couscous, dried cranberry, feta cheese, cucumber, red quinoa, walnuts and basil-chili vinaigrette
$

17
Couscous Bowl
Saffron couscous, avocado, poached egg, toasted almonds & balsamic glaze dressing
$

16
Falafel Bowl
Crispy falafel over baby greens, tomato, cucumber, pickled onion & tofu with Green Goddess dressing
Click/tap to enlarge menu
Offer is good for one free regulat mimosa or bloody mary with the purchase of a brunch entree, burger or sandwich. Reservation must be made through the form on this page. Offer may be revoked at any time and cannot be combined with any other offers.